Antioxidant Serums: What Do They Do?

If you've heard the buzz around antioxidants and antioxidant serums then you have heard about Vitamin C, Vitamin E, Q10, Green tea, Alpha Lipoic acid, berries, pomegranates, and acai.
However, when one takes the time to learn more about antioxidants you will quickly learn that these common antioxidants found in serums and supplements are NOT the most powerful or the most effective antioxidants. If you are like me, you want the best!
But you ask…What are the most powerful antioxidants, and the best antioxidant serum to use? What will they actually do for your skin? And, is this all beauty-industry hype, or are there actual factual tangible benefits to antioxidant serums?

You've come to the right place. I love nothing more than to talk about powerful antioxidants, skin care, reversing skin damage, and making healthy lifestyle choices. With a few extraordinary skincare products, it is possible to feel confident with your skin without wearing makeup.
So, let's begin at the beginning and I'll talk you through antioxidants and antioxidant serums.
What's an Antioxidant Anyway?
Before we get to the serums themselves, let's talk about antioxidants. You likely know this already but just in case you need a refresher, antioxidants are natural molecules that help neutralize or even reverse harm done by "free radicals"—unstable molecules—in our bodies.
These free radicals can cause you to have skin irritation, wrinkles, fine lines, dark spots, and other visible skin damage.

As a team of Indian botanists explained in a peer-reviewed article published several years ago:
"If free radicals overwhelm the body's ability to regulate them, a condition known as oxidative stress ensues. Free radicals thus adversely alter lipids, proteins, and DNA and trigger a number of human diseases. Hence the application of an external sources of antioxidants can assist in coping with this oxidative stress."
According to Harvard, there are hundreds of antioxidants, maybe even thousands, of antioxidants.
Most people know about the ones that have gotten a lot of media and been extensively studied, like vitamin C, Vitamin E, Green Tea, Pomegranate, berries, and beta carotene.
All antioxidants are thought to be helpful by assisting to reverse the bad effects of aging.
But here's what's really interesting: antioxidants all not all created equal. Some are way more powerful and effective than others.
Astaxanthin is the best antioxidant I've found, after years of research.
And many commonly used antioxidants in expensive skin serums don't come close to the power of astaxanthin.
Hundreds of studies about it and other antioxidants have been published. The ones that interest me most are the peer-reviewed articles that suggest that astaxanthin assists to clear the body of free radicals so effectively that it is more powerful than several different carotenoids, and over a thousand times more potent than vitamin C, Vitamin E, and Q10.
A scientist who is interested in studying antioxidants spends a lot of time thinking about and comparing ORAC values. ORAC stands for Oxygen Radical Absorbance Capacity. Developed by Tufts University researchers for the Food and Drug Administration, ORAC is a reliable way to determine the antioxidant capacity in foods.
I talk about ORAC values all the time. It drives my husband crazy. But it's important: the higher the score, the more powerful the antioxidant. So, we want to be eating foods that have high ORAC scores and using skin care products made with high ORAC values sourced from natural sources.
Astaxanthin has an ORAC score of 2,822,200. That means it's hundreds of times more potent than wild blueberries, 293 times, according to nutritionist Maxine Sheils, who cites research showing that it is good for your muscles, your skin, your brain, your heart, and even your eyesight.
Astaxanthin has the second highest ORAC value ever measured! To date, the only thing that beats it is the sap from the lechleri tree called Dragon's Blood. I have seen this tree in Costa Rica and its sap is bright red like blood!
Dragon's Blood 2,897,110
Astaxanthin 2,822,200
Cloves 290,283
Rosemary 165,280
Acai berries 102,700
Wild blueberries 9,621

If you want to check the ORAC value of food, Superfoodly keeps an updated and searchable database with these numbers.
The Benefits of Antioxidant Serums

Antioxidant serums, when they're made right, can assist to remove the free radicals—which are potentially damaging oxidizing agents in your body. You don't want to cohabitate with oxidizing agents. In fact, while free radicals are a normal part of your metabolism, you want them gone as quickly as possible.
The idea behind antioxidant serums is to penetrate the skin to support the removal and help stabilize free radicals. Supporting and rejuvenating the skin from sun damage, environmental irritants, and aging.
High-Quality Antioxidant Serums Have Many benefits:
Reduce the look of skin damage from UV rays

Give you brighter, younger-looking skin

Reduce irritation and redness

Reduce the look of scars

Calm and soothe inflammation

Provide anti-aging benefits

Reduce the look of sagging skin
Do All Antioxidant Serums Actually Work?
Yes! (and no…) There's a lot of hype around these serums. Some work better than others—as you will quickly discover when you try them on your skin.
The ones that work the best will leave your skin looking younger, fresher, and more radiant.
You'll notice that your skin feels good and that you feel good too, just like when you eat healthy food.
I love that.
The Antioxidant Serums That Don't Work
1) Ones that contain low-quality ingredients and contain LOW ORAC-valued antioxidants. These serums either don't work at all, won't make a noticeable difference, or may actually end up irritating your skin. All you will get out of them is a lighter wallet.
2) In fact, you want to avoid serums that contain low-quality ingredients, even organic ingredients can be superfluous and ineffective. Remember, alcohol and glycerin, two very common organic ingredients, offer no nourishment or positive benefits to the skin. Stay tuned for a later blog on glycerin.
Avoid these common ingredients found in a lot of natural serums, especially if they are listed toward the top of the ingredient list:
Alcohol (Strips the skin of its beneficial & beneficial bacteria)
Glycerin
Sunflower oil/ Safflower oil
Coconut oil
Fruit juices
Xanthan gum (filler/bulking agent)
I call the above ingredients downgrading ingredients. I don't know about you, but I only want upgrades in all areas of my life. I want high-quality, effective ingredients that are not diluted with an ingredient that is cheap and provides very little or no benefit to my skin.
3) Look for formulas that only use effective ingredients. Be sure to read the FULL INGREDIENT LIST. My team and I verify the benefits of each ingredient and use only the most potent in our formulas. We exclude anything superfluous or ineffective. Each ingredient in my antioxidant serum offers a unique skin benefit.
I created a concentrated antioxidant serum because I couldn't find an antioxidant serum that only contained high ORAC-valued antioxidants, and met my health standards and desires.
· Organic Astaxanthin (super antioxidant)
· Organic Jasmine oil (what the Egyptians used centuries ago)
· Organic Rosehip oil (nutrient- & vitamin-rich & non-comedogenic)
· Organic Clove oil (highest ORAC value in the food world)
· Gamma Oryzanol (from rice bran, which the Egyptians used centuries ago)
My serums are free of nasty chemicals, silicones, dyes, fragrances, cheap oils, and fillers.
To learn about our Transformative & Powerful Antioxidant serum click below:
Concentrated Antioxidant Serum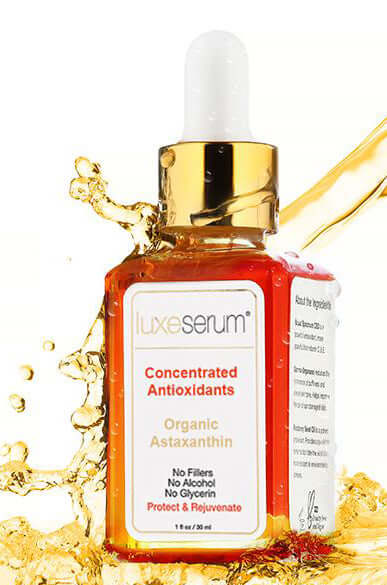 $79.00
Powerful Organic Antioxidants, a vial more extraordinary than gold! Antioxidants are the most effective weapon against the damaging free radicals that cause oxidation and damage to the skin. Free radicals accelerate the aging process. However, not all antioxidants are equal.… read more
What Our Customers Are Saying…
"My skin is changing every time I use the serum, it's softer, brighter, and smoother. My skin glows and improves my skin texture with each treatment. I have never used anything like this before and will be a customer for life!" Cynthia
"I LOVE this serum. Firstly, the ingredients are amazing. Secondly, my skin feels wonderful and has a glow that makes me feel great. I highly recommend this product. As someone with dry skin on my face, I am noticing a definite improvement in the look and feel of my skin." Richard
"I am OBSESSED with this serum/oil. I've been using this product since mid-April & I saw the benefits almost instantly! Following the first night I put it on, my skin soaked it up like a sponge & I woke up with super soft, radiant, & glowing skin! It felt like my pregnancy glow but times ten!" Karen
Frequently Asked Questions
Q: Where should I store my antioxidant serum?
A: It's important to keep your serum away from sunlight and in a cool dark place. Our Luxe Serum comes in a glass bottle that is tinted yellow ( You cannot tell this because of the beautiful natural red color of astaxanthin) to protect the product and the label has UV protection in it. Still, if your bathroom is sunny, it's best not to keep it on the counter. Store the serum under the bathroom sink or in your dresser drawer.
Q: How often should I use it?
A: Everyone's skin care regimen will be different but we recommend you apply it to your face and neck in the morning and at night. It will shield your skin from the elements during the day and rejuvenate it while you're sleeping at night. If you wear make-up, be sure to put the serum on first.
Q: Can all skin types use an antioxidant serum?
A: Yes. A concentrated antioxidant serum with only high-quality ingredients can offer many benefits to all skin types. It is excellent for all skin types.
*The information on this website and the products on the website are not intended to diagnose, treat, or prevent any disease or to affect any structure or function of the skin or body. Medical advice for skin or otherwise must be made in consulting with a healthcare provider.