Air pollution exposure is one of the significant threats to skin health and accelerates skin aging mainly through oxidative stress mechanisms.
According to Dr. Gilly Munavalli, medical director of Dermatology in N.C. "Sunscreens aren't effective for pollution. The best thing we can do now is apply antioxidants."
Pollution can stress your skin daily by wearing down your skin's natural barrier (a.k.a. hydrolipid film). Because your skin has lost that protection, it becomes more reactive, increasing its vulnerability.
Air pollution causes skin damage and creates skin aging processes, such as dark spots and wrinkles, through oxidative stress.1
In particular, air pollution causes alteration of skin barrier functions, oxidative stress, and inflammation.2 Skin exposed to pollutants reduces its antioxidative potential. 3
According to the WHO,4 93% of the population worldwide is exposed to an excessive level of outdoor and/or indoor pollution.
Air pollution exposure is associated with premature skin aging, wrinkle formation, pigmented spots, urticaria, and eczema.5
Pollutant substances accelerate skin aging through specific activation of intracellular receptors called AhR (aryl-hydrocarbon receptors)." 1
Exposure to pollution has many consequences for your skin causes:
The appearance of dark spots

Appearance of Wrinkles

Dull complexion

Dilated pores and the appearance of blackheads or pimples

Premature aging

Dehydration and dryness
Pollution doesn't just dirty your face on the surface. By accumulating on your skin, toxins block your pores and reduce oxygenation. The result: your skin suffocates, loses its shine, and imperfections begin to appear. What's more, when your skin comes into contact with pollution, it leads to the creation of free radicals, and unstable molecules caused by cellular oxidation and accelerates the aging of your skin.
The pollutants we encounter daily may be largely inescapable, especially in urban areas, but there's ample reason to be defensive in our skincare routine.
What can you do to protect your skin from pollution?
According to Dr. Gilly Munavalli, medical director of Dermatology in N.C. " The best thing we can do now is apply antioxidants."
1) Apply A Powerful Concentrated Organic Antioxidant Serum to neutralize the effects of pollutants to prevent premature aging and damage. This serum can be use as a final step to act as a skin shield against oxidative stress.
Not all Antioxidant are equal in their strength. Be sure to use an antioxidant serum with high ORAC value ingredients, such as Astaxanthin and Organic Cloves.
ORAC stands for Oxygen Radical Absorbance Capacity. Developed by Tufts University researchers for the FDA, ORAC is a reliable way to determine the antioxidant capacity.
But it's important: the higher the score, the more powerful the antioxidant. So, we want to be using skin care products made from high ORAC ingredients.
Astaxanthin has an ORAC score of 2,822,200. That means it's hundreds of times more potent than wild blueberries, 293 times, according to nutritionist Maxine Sheils.
Astaxanthin has the second-highest ORAC value ever measured in the world! To date, the only thing that beats it is the sap from the lechleri tree called Dragon's Blood.
Dragon's Blood 2,897,110

Astaxanthin 2,822,200

Cloves 290,283
Rosemary 165,280
Acai berries 102,700
Wild blueberries 9,621
Antioxidants help protect and purify the skin by assisting in turning dull and devitalized complexion into luminous and healthy-looking skin.
Concentrated Antioxidant Serum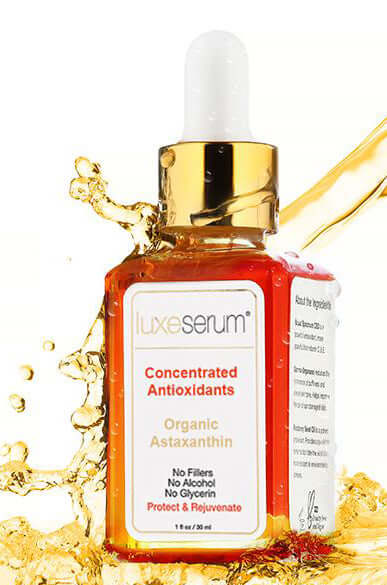 $79.00
Powerful Organic Antioxidants, a vial more extraordinary than gold! Antioxidants are the most effective weapon against the damaging free radicals that cause oxidation and damage to the skin. Free radicals accelerate the aging process. However, not all antioxidants are equal.… read more
2)Use A Skin Detox Cleanser. "Use a cleanser that will wash off all the bad molecules but not strip key oils." Says, "Dr. Carl Thornfeldt, who has studied skin barrier function for more than 20 years. This is precisely why luxe beauty created a gentle detox cleanser that can be used daily to remove makeup and harmful molecules. Luxe Beauty's 4-1 Detox Cleanser strengthens your skin barrier without stripping away your healthy oils.
The Ultimate 4 in 1 Vegan Skin Cleanser
$29.99
Hollywood calls this a facial in a bottle for a reason! Luxe 4-in-1 detoxes the skin to reveal glowing, soft, healthy, and vibrant skin. Quadruple action purifies skin for a clean, fresh, and radiant look—powered by powerful organic oils, clay,… read more
3) Exfoliate your skin once week. In addition to unclogging your pores and removing dead surface skin cells, exfoliating prevents pollutants, dirt, and bacteria from building up. And as a bonus, the products you apply afterward will be more effective!
Be sure to use a gentle, non-chemical exfoliate. 4-1 Skin detox/ exfoliant. We suggest only using a gentle exfoliant from fruit enzymes and fruit base vitamin C (not a syntenic form from Ascorbic Acid).
Luxe Beauty's skin detox/exfoliant is excellent for sensitive skin and strengthens your skin barrier rather than leaving it vulnerable and sensitive, like chemical peels, acid peels, or other harsh exfoliates do.
After cleansing or exfoliating your face, use our enzyme, mineral rich toner, then water base serums, then luxe lotion as your moisturizer with the proper pH. Our serums and moisturizers complement each other and help re-establish your skin's protective barrier. Our concentrated antioxidant serum is a perfect final step to act as a skin shield against oxidative stress.
4) Eat Foods Rich In Antioxidants there is substantial evidence that including antioxidants in the diet, in the form of fresh foods or through food supplements, may play a role in modulating the acute effects of air pollutants (21, 22).
Clin Cosmet Investig Dermatol.2019; 12: 393–399. Published online 2019 May 29. doi: 10.2147/CCID.S204905 https://www.ncbi.nlm.nih.gov/pmc/articles/PMC6549792/
Puri P, Nandar SK, Kathuria S, Ramesh V. Effects of air pollution on the skin: a review. Indian Journal of Dermatology. Venereol Leprol. 2017;83(4):415. doi: 10.4103/0378-6323.199579 [PubMed] [CrossRef] [Google Scholar]
Wölfle U, Seelinger G, Bauer G, Meinke MC, Lademann J, Schempp CM. Reactive molecule species and antioxidative mechanisms in normal skin and skin aging. Skin Pharmacol Physiol.
World Health Organization. Ambient Air Pollution: A Global Assessment of Exposure and Burden of Disease. Geneva, Switzerland: 2016.
Kim HO, Kim JH, Chung BY, Choi MG, Park CW. Increased expression of the aryl hydrocarbon receptor in patients with chronic inflammatory skin diseases. Exp Dermatol. 2014;23(4):278–281. doi: 10.1111/exd.12350
Romieu I, Castro-Giner F, Kunzli N, Sunyer J. Air pollution, oxidative stress, and dietary supplementation: a review. Eur Respir J 2008; 31(1): 179–97. doi: 10.1183/09031936.00128106
Whyand T, Hurst JR, Beckles M, Caplin ME. Pollution and respiratory disease: can diet or supplements help? A review. Respir Res 2018; 19(1): 79. doi: 10.1186/s12931-018-0785-0